It would be difficult to trace a parallel between the actions undertaken by an international team of activists titled 'hacking the borderline' (http://www.hackitectura.net/osfavelados/fadaiat_tarifa/encuentro/schneider_lang.html) and my personal story. Still in a way I consider it is somehow related to the border camps established in Chech Republic (http://www.nadir.org/nadir/initiativ/camp/journal.html) or in Poland, particularly due to the fact of dealing with the same subject, just in more laic/everyday conditions. On the other hand I was always wandering how did I come to develop new but in the same time strange habits like always taking some 35x45 mm photos with me wherever I would go or sticking papers with the inscription RESERVED on the left free pages of my passport – this is to save at least one page for a transit visa in order to get back home.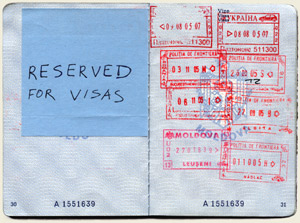 photo 15x45 mm

My old passport expired in 2004, actually the pages in it came to end, no more place for stamps and visas..

Before going to Belgrade I had to change it and here my trip started, with a colour photo of 35x45 mm first for my passport, then for visa for Serbia and Montenegro, then for my student card, local visa as well. Always the same dimensions.

I prepare my backpack, bus ticket and go to the station.

The night is long. At midnight we cross the Moldo/Transnistrian/Ukrainean border.

In the morning I arrive to Serbian embassy in Kiev. Being accepted as a student in Belgrade I have to wait one month to get my visa.

One month later I do the same trip. I got it. I take my passport and next morning, back in Chisinau, I prepare myself to leave.

Belgrade meets me with rain and my student life recommences.

In March we go to Sofia as part of our study program.

From the whole group representing 9 countries its only me to go to the Bulgarian embassy in Belgrade to ask for my next magic ticket.

Our trip took place 1 month before the opening of the Contemporary Art Museum in Sofia (a project by Ivan MUDOV : http://www.novinite.com/view_news.php?id=47148, http://www.sofiaecho.com/article/no-museum-no-market-no-artists/id_11434/catid_30). No, I couldn't come back in order to be present there, I had the permission to stay in Bulgaria just for 5 days including the travell as well.

Then our second study trip to France.

It coincises with my participation in a seminar organized in Dubrovnik.

There is just one day between the trips, what is not enough to return to Belgrade from Dubrovnik and embark on the bus for France. In one moment I am suggested by the university staff to choose – whether to go to Croatia or to France. I decide to go to both.

Croatians give me just one entry instead of two as I asked.

The seminar already started but I am still in Belgrade waiting for the French visa.

Finally I got this one. Next day I am already in Herceg Novi in Montenegro and in the evening passing of my feet the serbo-croatian border. Luckily met some people from Dubrovnik with a car that took me with them. Late in the evening I finally join the participants for the remaining 2 days of the conference.

Discussing the war that affected Dubrovnik I suddenly realize that I cannot go in train to Zagreb because it will take me through Bosnia and Herzegovina.

I manage to get one of the last plain tickets and with other students, going to Zagreb for the weekend, land in the Croatian capital.

Visiting the old city I get lost on its narrow streets..

In the afternoon I find myself walking on the highway 15 km from Zagreb towards the motel Plitvice, waiting for the bus with my group coming from Belgrade. In 3 hours it is there and I join the school. We continue to France.

In Grenoble I meet Alice at MAGASIN.

Lyon opens its spaces for us.

6 days pass very quickly and its time to come back to Belgrade.

We take off late at night.

Early in the morning, when everybody was still sleeping, I leave the bus on the road in 10 km from Ljubljana, in a place close to some forest, on the left there is a big intersection. The bus continues to Belgrade taking away all my group (students and teachers).

Following the sign made by the driver 'Ljubljana is over there' and his finger pointing somewhere to the horizon I arrive to a small village and find a bus stop.

The morning bus arrives and takes me and few other people to the place I was before – the baroque town.

Nothing is left but just flying over Croatia or Hungary, doesn`t matter, anyway I don`t have a transit visa for none of them.

Its Sunday, just a few people on the streets.

I go to Metelkovo Mesto and find my graffity half covered by another graffity. 'Moldova' is still written on the wall and just remembered that my first visa I got when I took part in a graffity festival organized in Ljubljana in 1999. It was also my first contact with the western civilisation if not considering Budapest, which I passed on the way.

Next morning, still thinking to save my 100 € needed for the flight, I call from the airport to the Croatian embassy in Ljubljana – the answer is that the visa will be ready not earlier than in 1 week and my schengen visa is over already tomorrow.
USV