By
Alice
|
Published:
May 8, 2010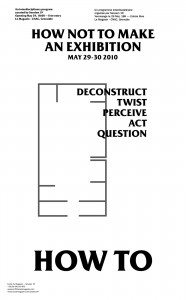 By
Alissa
|
Published:
May 4, 2010
This image has been borrowed by Session 19 (b. 2009, Grenoble, FR) from artist Ryan Gander (b. 1976, Chester, UK) who borrowed it from Fischli/Weiss (b. 1952 and 1946 Zurich, CH).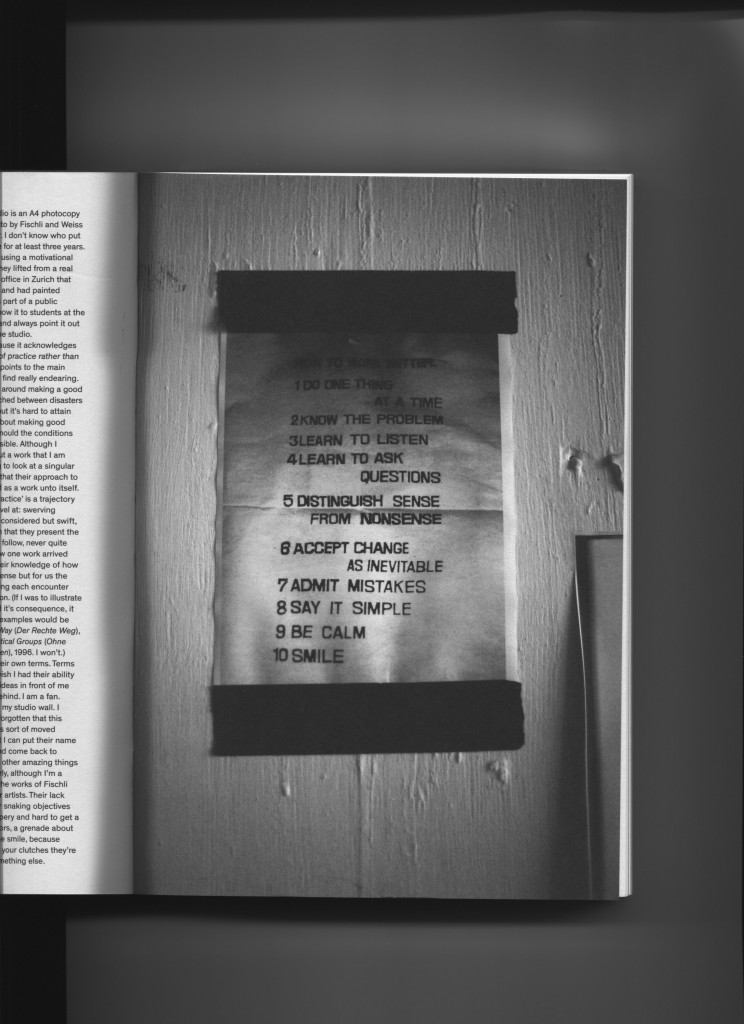 By
sophie
|
Published:
May 1, 2010
Le Guide Legrand des Buffets de vernissages est sans doute l'exemple unique d'un type de littérature : le guide gastronomique appliqué aux vernissages. Un projet absurde, brillant et indispensable. Avec une jubilation que l'on ressent derrière chaque mot et qui se déploie dans un style sobre et efficace, ponctué d'éclats d'humour noir, l'auteur décrit, analyse et juge les vernissages de soixante-cinq lieux d'exposition d'art contemporain situés principalement à Paris et dans le Sud de la France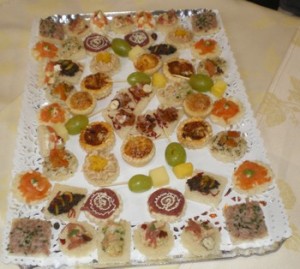 On remarque en général un déni, une ignorance de l'importance du buffet de vernissage dans les écrits théoriques sur l'art. Auguste Legrand apporte une mise au point décisive. Le buffet est un des éléments majeurs, si ce n'est l'élément majeur, de la vie artistique. Le Guide Legrand des Buffets de vernissages n'apporte rien de moins qu'une révolution copernicienne dans notre perception des expositions. La conversation, le cadre, le service, les discours éventuels et bien sûr la table sont les cinq éléments qui servent de base à son jugement. Les oeuvres exposées viennent après, bien après.
Faut-il détester les gobelets en plastique ? Est-ce qu'une exposition intéressante gâche vraiment le vernissage ? Sur quoi doivent porter les conversations ? Traiteur ou bien plats faits maison ? Toutes ces questions constituent pour l'auteur autant de pistes permettant de mettre en évidence la dimension sociale du vernissage et son articulation avec la notion de « pique-assiette ».
Le buffet de vernissage est à prendre au sérieux. A la lecture de ce guide, notre regard et nos jugements de goût seront radicalement changés. Fi des hypocrisies, accordons au buffet sa vraie place, laissons libre court à notre fantaisie gustative.
Alors oui, Legrand, poète du buffet et du petit four, est bien un héritier moderne (ou plutôt post-moderne) de l'esprit de Brillat-Savarin !
Jessica Le Breuil
80 pages, format 15 cm X 10,5 cm, 500 exemplaires
Éditions : Les Guides Auguste Legrand, 9 euros
Renseignements auprès de Pierre Monjaret :
pierre.monjaret@wanadoo.fr
05 62 34 07 93
By
Alissa
|
Published:
April 21, 2010
For financial reasons, the Ideal Institution is in the Netherlands, Norway or Canada, or perhaps has offices in all three countries which produce three autonomous yet interconnected streams of activity. Scratch that. It has one autonomous office in Malmö, Sweden: The Office for Research.
The Office for Research has the support of two patrons, and three levels of state funding: national, regional and municipal. The state funding supports operations while the patrons invest in the two main programming streams: Long Term Residencies and Short Term Residencies
Long Term Residencies invite artists, designers, architects, writers and thinkers to work at the institution as interlocutors over a two-year period, and are encouraged to take an expansive approach to artistic creation. Short Term Residencies invite artists to come and create a new work.
A Board of Directors composed of artists (because curators learn from artists and not the other way around) oversees hiring, strategic planning and fiduciary matters. An Artistic Director oversees all programming decisions, with the support of a Curator in Residence. The Artistic Director is tenured on salary for a two-year, once renewable term. The Artistic Director curates five projects per year. The Curator in Residence is an annual part-time contract position and curates three projects per year. An Administrative Director oversees operations and facilities. A Program Assistant administrates the program.
Applications for the residencies are open to and welcome from all, but the final decision rests with the Artistic Director and Curator in Residence.
The Ideal Institution is streamlined. It is not an institution. It is not a gallery. It is not a kunstverein, a kunsthalle, or an artist-run centre.
It is a community garden, a restaurant, a bar, a laundromat, a library and a school.
The community garden provides its fruits and vegetables to the restaurant, which offers a daily pay-as-you-can soup option. Every Thursday, just before any event, the Administrative Director and Artistic Director create a special meal together such as scalloped potatoes and roast beef or vegan lasagna. This particular meal is available at low cost. The laundromat is operated at a discount rate, and the proceeds go towards the library. The library is run on a volunteer basis. The copyshop is free.
While acceptance to the school is based on a highly competitive process, it is unaccredited. The year runs from October 1st to June 30th. Classes are organized by participants themselves, held weekly. New classes can be proposed at any time. Graduation is based on a self-evaluative oral presentation delivered to classmates and a jury of established professionals.
All this said, The Ideal Institution is transforming itself right now, learning along the way, always from its publics and the artists it works with.
By
Alice
|
Published:
April 21, 2010
Stephen WHITTINGTON,
Discussion in a sound landscape
20 mars 2010, during the performance of Vexations, he did start
He wrote an article[1] sixteen years ago, but since then, he evolved and modified his understanding of Les Vexations.
This piece is religious in a way, it looks like a labyrinth. The labyrinth, as in cathédrale de Chartres, was a physical path designed on the floor which symbolized the spiritual path leading to God: as you follow one the other is happening. Les Vexations permits one to have a direction to find, and following your own path. It is like an inner struggle, but struggles are moments of the spiritual quest. The repetitions help to just keep doing it, they are the pavements of the spiritual path and helps to try to find the spiritual achievement. Repetitions are always in the nature of spiritual achievement, like mantra.
It's in the initial idea of les Vexations to keep in repeating and so entertaining. (looking and hearing the young students trying to play this piece)
The students are practicing but they keep on making mistakes. They are young people on this spiritual path, they are trying and trying, and I accept that. It's the beginning of something, and they are struggling, because it is more much difficult than they could realize.
I could feel this morning that some of the students were playing quite well and when they realized that they were on stage, they just crashed down.
Yes the mentality of the performer is important, it is (hesitation) egocentric[2], which means very much involved in their soul. The students have the fear of somebody judging them, and the fear of making mistakes. But as soon as those things take hold in you, you will certainly make mistakes. As soon as you feel watched, and somebody is about to judge you…
This kind of performance is not about you: you are a person and something comes through you, it's not about you it's about something else; it's about the spiritual state. You are just the thing for passing in this time. The question would be play, try to…
Vexations are also about failures, displacement, I don't mean mistakes: but because it's human it's always different…
Failure is part of that, because on the spiritual path you live many failures. It's not only constant success and improvement – you will fail. It is inevitable. That's why the Zen master waits for you in a corner to strike you.
Satie wanted to go against knowledge, Vexations go from zero, at the beginning you have to be like new, but at each vexation you start again.
It's what John Cage said: most people count 0 – 1 – 2 – 3, but Satie was counting 0 – 3 – 27 – 0, he always counts back from 0. 0 is always the start; it's like the emptiness of your self. And again I feel the repetitions break down the psychological barriers. The repetition seems to brainwash people or to change peoples' thinking.
It's like Satie didn't want to sharper the intelligence but to make you feel lost.
Yes, that's true. But there is a logic in this music too, an unusual logic, but very personal to Satie I think. In this period of his life especially, he was working on very complex systems to make music, and this piece does mean that, it is very surprising.
Sixteen years ago, when I wrote the paper[3] I didn't appreciate the extent of the thinking, the thought which is in it: it's not creative by chance, it's not improvised, it is creative with a system, intricate and concrete musical system. I think I didn't fully understand, but I think I have much better idea of it now.
Because he had too much imagination, fantasy, so if you gives you rules, your own rules to follow, it makes you have a more productive imagination in this frame. It's like the French group of poets Oulipo, they were using this method.
Yes, exactly. And also I like the sculptor who wants to sculpt wood, and says that it's because he feels the resistance of the medium that he can create; if there were no resistance he couldn't sculpt. There is a kind of restriction imposed by the medium which is quite true.
It happens many times in music, with some kind of restriction in order to be liberated, this is not unique to Satie. It's happening also with JS Bach. When you write a canon (canon means rule), you create the rule for yourself you then have to follow, it's called a canon – it's going back to Middle Ages. It's very closely connected with the spiritual world of the Middle Ages. You create the rule, and then you follow it, you can't break it. It's imposing a discipline on yourself, but when there is the discipline you free yourself, you are forced to find solutions. I think that's one of many the reason why Satie went back to study in Contrepoint, he studied fugue. Bach was also great composer of fugue.
And playing the Vexations is like giving you a rule also?
There is a rule in the Vexations, because the way the harmonization, the way harmony works is based on four phrases as a rule. And the two different harmonies follow rules related to one another in the way the upper voices are exchanged… So Satie wrote rules for the Vexations, rules he must follow.
Why, since the first representation, is it so much played? It's like it's becoming a fashionable thing to play.
I think that's true!
Maybe you can feel there is something important about this oeuvre and you must play or listen it to find what it is.
He also intended to criticize Wagnerism and its idea of heroism. He is breaking down heroism; it is more about internality than externality Wagner could show.
It is also politics, Wagner was German, and considered as a representation of German… and it was the war between the two countries.
Today it would have pleased to John Cage, so many sounds coming in here, Vexations is like a constant ground. And when I was playing with all the drums[4] it was very noisy!
Yes it was a mix between internality and externality. A weird confrontation but it was working quite well.
But I just had to accept it.
No choice!
You have a choice – you can get up and stop!
You speak more about Satie than Cage. Could you tell me why?
It's becoming more a performance, which is so associated with Cage. But I am more interested in what Satie represented, his way of thinking. The thing that John Cage recognized in Vexations is very important, he recognized there is something hidden which was very serious. But Cage himself at first sight thought that it was a joke, that it was insane, and again he looked at it and found there is something in it, very unusual. It needed somebody like John Cage to see that…
But it took fifteen years to him to find the reason why to play.
Yes, to read, to look, and learn, and recognize the seriousness in it, and understanding that performing was worth it. It's very interesting to me that it's John Cage and not a French composer who discovered it.
Since I'm working on, it's more the Anglo-Saxon who are interested by Satie and go deeper in the analyze of his work, not only as the friend of Alphonse Allais, Cocteau or the influence of Debussy…
I think for a long time French didn't take Satie very seriously. French music went in another direction; it's very intellectual in a certain way. Maybe that intellectual quality made it difficult for some French musicians to see the quality in Satie, or other reasons… Olivier Messiaen, didn't play Satie at all, although he was very spiritual in his own way, very religious. For Boulez, it was not intellectual.
What lack in Satie is the appearance of seriousness because it's short, strange…
Cage said that he had prepared every detail for the performance, except one thing that it will change his life. Do you think that performing the Vexations has changed anything for you?
It would be very prétentieux[5] to answer! like "yes of course it changed all my life" !
It reminds me the story of John Cage talking to a Zen Buddhist, it might be Suzuki but I'm not sure: Cage asks "What happens after enlightment? How does this table look like to you? " "Before enlightment this table is just a table. After enlightment this table is still a table, except your feet are one inch off the ground".
Trying to explain meditative experience to someone who as not gone through that, it's like Dick Higgins, after the first performance said you can't compare it to another experience, the idea of sitting, listening to a phrase 840 times is completely different from actually doing it. You may imagine what it is like but imagination doesn't have any connection to what it's actually like. You try to imagine but you can't know what this experience is. You can understand what this experience is maybe that's like to count rice but they can't experience it. The imagination is no substitute for that. The other can't know this meditative experience.
---
[1] Serious Immobilities: On the centenary of Erik Satie's Vexations. http://www.af.lu.se/~fogwall/article3.html
[2] In french.
[3] http://www.af.lu.se/~fogwall/article3.html
[4] Nb : The city carnival started its path from the outside of the mall were Vexations were performed.
[5] In french
.
By
Alice
|
Published:
April 7, 2010
Ornella VOLTA
Discussion avec Alice Marquaille à propos des Vexations
12 mars 2010
Warhol a fait Sleep après avoir entendu la première performance des Vexations.
Pour Erik Satie c'était plutôt une sorte de pénitence. Cage ne voulait pas vraiment vivre cela comme une épreuve, dans la pensée zen il ne faut pas penser l'effort comme une fatigue. Pour le public ce ne devait pas non plus être une épreuve, alors il a pensé à un système pour que les gens ne payent pas à l'entrée mais à la sortie. Ils payaient de moins en moins cher ,plus ils restaient de temps. Celui qui est resté tout le long de la représentation a même reçu quelques centimes !
Avez-vous déjà assisté à toute une représentation ?
Oui, plusieurs fois, il y a quelques années de cela surtout. C'est vrai que l'on a un peu l'impression de planer, on a des perceptions différentes, des sensations différentes. Depuis que Cage les a représentées c'est un peu différent, c'est comme si l'on planait dans un monde différent.
Vous dites que Cage les a transformées, c'est le fait de performer les Vexations qui les transforme ?
Oui, dans la mesure où c'est quelque chose faite pour soi, que le pianiste se joue à lui-même. Cage a partagée la performance entre douze pianistes, et ensuite il l'a partagée avec un public, donc c'est transformé par rapport au sens original. Sinon pour le reste, il a respecté toutes les règles.
Et par rapport à la phrase écrite par Satie, ses indications, 840 semble absurde presque, pourquoi pas 10 ou à l'infini ?
On ne comprenait pas pourquoi 840, j'avais déjà trouvé que c'est un multiple de 3, 4, 5, 7 et 12, ce qui correspond à différentes choses déjà connues de l'histoire. Mais un mathématicien anglais, en assistant à la représentation de Mark Lockett a trouvé une interprétation de ce chiffre. La Fondation est en train d'étudier cela et va produire une publication scientifique à ce sujet.
Il y a quelque chose incroyable avec ces Vexations c'est qu'elles sont devenues très à la mode. Depuis Cage, elles sont jouées très régulièrement et souvent depuis quelques années.
Oui et dans tous les pays, on les a jouées en Inde, en Chine, au Japon…
Il y a des années où elles sont plus jouées que d'autres. Il y a toujours une recherche de solutions, comme une pharmacie nocturne pour jouer, des abattoirs désaffectés, les endroits les plus étranges toujours… Oui, c'est fantastique !
C'est vrai que lorsque je me penche dessus, j'ai l'impression qu'il y a vraiment deux lignes : la ligne de Satie qui ne les a pas jouées, tout du moins pas à notre connaissance…
Oui, et il n'en a même pas parlé, puisqu'on l'a découvert après sa mort.
et la ligne de Cage qui est dans la performance et la représentation de ces Vexations. C'est un peu comme s'il fallait choisir sa position entre considérer cette partition comme une musique personnelle à lire et à penser, ou une musique à jouer et à partager avec un public.
Il est vrai que ce sont des conceptions différentes, mais en même temps ce n'est pas si différent. Quand vous les écoutez vous entrez dans le monde de Satie, c'est une source de contemplation, une atemporalité, sortir du temps… Finalement tout le monde devient contemplatif, méditatif, vous voyez ? Cela produit le travail intérieur de celui qui écoute. Ça n'est donc pas la même chose, mais le résultat n'est pas si différent. Cage, d'ailleurs a dit à la fin de la représentation qu'il avait tout prévu, tout organisé, tout minuté, sauf une chose c'est que cela allait changer leur vie. C'est une chose qui a changé sa vie, cette conception du temps, cette conception des choses…
Il avait publié la partition plus de dix avant pourtant…
En 1949, il les a découvertes chez Henri Sauguet, qui était musicien et ami de Satie. Sauguet les avait découvertes après sa mort, dans les papiers qu'il a reçu, mais il a toujours cru que c'était une sorte de plaisanterie. Cage a compris qu'il y avait quelque chose de très important. Il a hésité pendant quinze ans à les jouer, car il pensait que c'était complètement injouable, que c'est un vide de l'esprit. Mais après avoir entendu le Théâtre de la musique éternelle de La Monte Young, marqué par l'influence orientale, il s'est rendu compte que ça rentrait dans cet univers là, et il s'est alors dit qu'il pouvait le faire. Il a fait appel à John Cale, c'est un musicien d'avant-garde qui a joué dans le théâtre de La Monte Young, et il a joué aussi dans les Vexations, il fait une sorte de lien.
Dans la discussion entre Gavin Bryars et Hobbs c'est intéressant la description qu'ils donnent de l'écoute qui se transforme. L'un explique que leur écoute se transformait, que parfois lorsqu'il joue il n'entend pas du tout la musique mais les bruits extérieurs, et que parfois c'est l'inverse il a l'impression d'être habité par la musique et qu'il n'entend plus rien autour.
Evidemment car c'est tellement long que cela modifie tout le temps votre perception.
Il ne faut pas oublier la répétition des 840 fois. Par exemple, Satie écrit un tango perpétuel, si l'on commence à le jouer il ne faut plus jamais s'arrêter.
C'est presque auto-destructeur
Si vous commencez, ce n'est qu'à la mort que vous pouvez vous arrêter. Mais c'est pour cela qu'il est important de garde le nombre 840. C'est vrai que c'est très spécifique.
Jack Vanarsky, qui est sculpteur, a fait quelque chose de très intéressant. On préparait quelque chose ensemble… Il fait des livres animés, avec les pages qui tournent seules. Il voulait faire un livre animé avec les Vexations qui bougent. Malheureusement il est mort avant d'avoir pu finir ce projet.
Je me demandais d'ailleurs si 840 avait un sens, si on peut penser aller au bout de la répétition jusqu'à l'effacer, mais évidemment à parler avec vous cela ne trouve plus de sens. Mais personne n' a totalement effacé 840, d'ailleurs je me suis intéressée à la méthode que Mark Lockett a utilisé pour comptabiliser le nombre de répétitions : il avait deux bols un vide et un plein de pois chiches. A chaque répétition, il mettait une graine dans le bol vide, jusqu'à ce que les contenances s'inversent. On pensait à un jeu avec des objets…
Il y a Rober Racine, qui est un artiste et pianiste canadien, qui avait copié 840 fois la partition, et à chaque fois il jetait une copie au sol.
C'est beau ce geste !
Oui il est artiste. Il y a des gens qui notent sur un tableau noir, il y a plein de solutions. Par exemple, une autre chose qu'a fait Rober Racine, il l'a exposé l'année dernière à Montmartre, il utilisait des épingles, et il plantait des épingles comme ça (elle fait le geste d'enfoncer une épingle avec son pouce) dans une boite.
Oui, quel drôle de geste !
Il y a eu de nombreuses techniques.
Ce qui est intéressant c'est le problème de la mémoire. C'est ce qui est ressortit de la discussion avec Mark Lockett, ou à la lecture de la discussion entre Bryars et Hobbs. Il m'a expliqué qu'il s'était préparé deux semaines avant la représentation comme un marathonien.
Nous avions fait une représentation à Montmartre, dans le petit musée, qui est la chambre où Satie avait habité, il disait qu'il vivait dans un placard. Un jeune pianiste est venu et a joué les Vexations pendant 24h. Mais il était très jeune et sa mère avait peur qu'il ne tombe malade, alors il s'était arrêté durant deux heures. Il a joué de minuit à minuit la fête de la musique 1985. C'était pas mal !
Oui j'évoquais la question de la mémoire, puisque même au bout de 840 fois, les musiciens ne retiennent pas la partition de mémoire.
Ils doivent toujours avoir la partition devant les yeux, car il y a deux variations, et elles sont comme à l'inverse l'une de l'autre. Alors c'est très troublant. C'est si troublant que l'on ne peut pas l'apprendre par cœur.
Tout à l'heure vous parliez d'une pénitence…
Oui oui tout à fait. Ce qui est important aussi c'est de se préparer avec des « immobilités sérieuses ». Satie indique que pour se jouer, il faut se préparer par des immobilités sérieuses, dans le silence.
Satie a pu le garder secret car cette composition est une sorte d'exposé de sa pensée, en comparaison de la musique héroïque wagnérienne.
C'est difficile car Satie n'a jamais parlé de cette œuvre. Il n'a jamais parlé ni expliqué ce qu'il faisait. S'il parlait de son travail, c'est sur le ton de la blague, de la modestie. Les Vexations ont été une surprise après sa mort, il n'en avait jamais parlé. Il pensait qu'il ne pouvait peut être pas la communiquer.
C'est étrange cette idée du non communicable pour la musique.
Satie pendant plus de vingt cinq ans, il n'a pas été joué. Lui jouait pour ses amis, ou pour lui-même, mais il n'avait pas de public.  Il n'était pas compris, il était méprisé. Il donnait des indications de jeu, d'un caractère très particulier. Mais le public ne peut pas connaitre cela, c'est seulement pour l'interprète. Il y a toujours un grand problème de communication pour Satie.
Pendant longtemps, les indications énervaient beaucoup les interprètes, car ils n'avaient pas du tout l'habitude de ce genre de directives.
C'est fait exprès pour dérégler le côté rationnel. Jouer sur du velours, avec abnégation, comme un rossignol qui a mal aux dents, des phrases comme ça. Mais c'est bien car cela enlève la logique du cadre. Cela rend le pianiste bien plus disponible. Mais c'est compliqué car il y a des allusions à d'autres musiques, des choses à clé. Pour le public les choses sont plus courtes. C'est vraiment de l'art pour le pianiste.
Le drame du compositeur c'est qu'il est le seul artiste à ne pas pouvoir communiquer directement. Quand vous faites un tableau les gens voient le tableau, quand vous écrivez un poème les gens lisent le poème. Mais quand vous composez un morceau il faut un interprète pour que les gens puissent l'écouter.
Quand on parlait de communication… c'est pour ça que Satie fait des choses qui semblent paradoxales pour le mettre en évidence. Par exemple dans Sports et Divertissements, il a fait une musique visuelle : il y a un morceau du bord de mer et les notes ressemblent à une vague. Il fait une œuvre plastique avec la musique, mais le gens ne le sauront jamais car quand vous écoutez, vous ne savez pas ou sont les notes sur la partition. Il disait d'ailleurs qu'il avait beaucoup mieux appris la musique par les peintres que par les musiciens.
Quand j'ai discuté avec Mark Lockett, j'avais en tête cette idée que l'on jouait les Vexations comme un marathon, et il m'a détrompé en me disant que ce n'était pas un pari d'égo, et encore moins un marathon. Pour lui jouer les Vexations c'est faire de l'art ; il n'y a pas d'héroïsme mais une abnégation de l'interprète qui va les jouer.
Je vous conseille de lire un article de Robet Orledge qui est vraiment éclairant sur les Vexations.
J'ai trouvé intéressante une idée que vous avez écrite dans l'introduction du Piège de Méduse, à propos du « ça ». L'idée que la musique de Satie pourrait évoquer les « pulsions qui ne sont contrôlées ni par la raison, ni par la conscience ».
Oui, il y avait une américaine qui faisait sa thèse à ce sujet. En plus, en allemand « ça » se dit « Es », comme les initiales d'Erik Satie. C'est une musique subliminale, qui est une communication subliminale. Ce n'est pas directement psychologique, c'est une communication d'une vérité à l'autre, sans dramaturgie…
Donc cette analyse peut s'appliquer aussi aux Vexations.
Oui car c'est un peu comme les musiques orientales.
Ce qui m'interroge aussi c'est la notion de temps. Mais si Satie n'envisageait pas de les jouer, comment envisager cette notion alors ?
Mais on ne sait pas s'il ne les a pas jouées. Mo,i je pense qu'il les a jouées mais pour lui tout seul. D'autant plus qu'il y avait cette histoire de cœur avec Suzanne Valadon. Il lui avait composé une petite mélodie et il l'a gardée car il n'a pas pu lui offrir. Il a pris le dernier accord de la mélodie à Valadon pour en faire le premier accord des Vexations. Il a réemployé une autre composition. C'est pour ce la que je parlais d'auto flagellation, parce qu'il souffrait. Il voulait surement s'infliger une peine plus grande que celle d'un amour déçu. C'est pour cela que je pense qu'il l'a jouée seul dans sa chambre.
J'ai noté cette phrase dans ses écrits « chose curieuse, contre l'ennuie l'auditeur est sans défense, l'ennuie le dompte ».
Dans les concerts les gens supportent, ils ne comprennent pas forcément mais ils restent là. Cage disait si vous écoutez une chose une fois et que vous vous ennuyez, écoutez la une seconde fois, et si la seconde fois vous vous ennuyez, écoutez la une troisième fois, et ce jusqu'à ce que vous ne vous ennuyez plus, et là ça devient intéressant.
Oui, c'est un principe zen je crois.
J'ai noté encore cette phrase dans le Piège de Méduse, « Une invitation à l'homme de l'esprit nouveau à se libérer de tout ce qu'on lui a appris et prendre conscience de l'abime qui sépare le monde tel qu'il est en réalité de l'image déformée que nous en procure notre savoir. » Le projet que nous menons avec le groupe se pose la question de comment désapprendre et reconstruire le savoir.
Satie voulait un public vierge, car le savoir donne des préjugés. C'est pour ça qu'il était contre les académismes, son idée c'est qu'il ne faut pas partir des préjugés. Il faut toujours partir de zéro, être disponible pour ce qui peut advenir. C'est le contraire de Boulez, Cage disait de Boulez qu'il était très intelligent mais que quand il ne comprenait pas les choses, que quand les choses lui échappent il était complètement désarmé. Boulez n'aimait pas Satie, dans une interview il disait « Tout les dix ans on me ressort Satie, et je ne comprends pas pourquoi ? »
Satie par la musique essaie donc de repousser le savoir, de l'emmener ailleurs ?
Oui, c'est ça l'idée, c'est de toujours recommencer à zéro.
C'est pour ça que cette musique est toujours d'actualité.
Oui, absolument.
C'est cela que j'ai du mal à saisir : pourquoi aujourd'hui c'est toujours d'actualité ? Qu'est ce qui fait sa force en 2010 ?
Tous les mouvements artistiques qui sont venus après sa mort, Fluxus par exemple, se sont accaparés son travail. J'ai toujours trouvé que Satie leur correspondait, tandis qu'à son époque il n'était pas considéré, il n'était pas compris. Parce que lui n'acceptait pas les valeurs acquises justement, il pensait toujours en avance. C'est pour cela qu'il faisait des musiques toujours différentes, quand il arrivait à un point, il recommençait, il faisait autre chose, il repartait de zéro.
Avec l'artiste avec lequel je travaille, nous nous demandions si nous pouvions faire les Vexations sous une nouvelle forme, qui pourrait utiliser les moyens de la musique contemporaine, mais nous nous sommes dit que ce n'était pas la façon de travailler cette œuvre.
La musique contemporaine n'a rien à voir avec Satie, on ne peut pas dire qu'il a des disciples. La musique contemporaine, elle s'intéresse au son, elle cherche des sons, ce n'est pas vraiment construit, elle cherche toujours des choses par les sonorités.
Mais je crois que le nœud est dans cette idée de repartir à zéro…
Comme disait Cage quand vous écoutez une chose deux fois, la deuxième est déjà différente de la première, comme vous en avez déjà écouté deux à la troisième vous êtes déjà chargé des précédentes, etc. Donc c'est vous-même qui n'êtes déjà plus le même. Après un certain moment, on perd la connaissance de tout, c'est très intéressant. Quand vous parliez d'abrutissement, c'est un peu ça, cela annule l'intelligence. Ce n'est pas pour aiguiser l'intelligence, c'est pour la perdre, et perdre sa personnalité aussi, on perd pied, on perd l'espace…
By
Alice
|
Published:
March 26, 2010
"(…) If the baby is a boy, and he reaches for the bow and feather –then you´ve got a boy, the way tybos figure, whose human-being sex story is the way every boy´s sex story had better be. If the baby is a girl, and she reaches for the gourd and basket- then you got a girl whose human-being sex story is the way every girl´s sex story had better be.
But if the boy reaches for the gourd and basket, or if the girl reaches for the bow and feather, then in tybo, you got a boy or you got a girl whose human-being sex story is a sex story you got to shut up about.
In Indian there are words for you if you choose the way most babies don´t choose. I don´t know how you say them in Indian, but I know they´re not at all like the tybo words. In Indian, they mean either "basket-man" or "bow-woman". There´s the Word Berdache, too.
Ida told the store of my test this way:
"(…) There we were, the four excellent whores of Excellent, Idaho, and this baby boy. The Princess puts a feather and a bow on one side of the kid on the bed. She puts a gourd and a basket on the other side of him. Then she says to us, "Watch!" So, we match. The kid does nothing but lay there. We watch some more. He lays there some more. I´m about ready to give up on this test when the kid rolls over. First time in his life he´s rolled over! We all gasp and cheer and talk baby talk. Then, you´ll never believe it –what this kid did, you´ll never relieve: he reaches up to me! To me! He grabs a hold of my feathers- my feathered boa!"
Tom SPANBAUER, selected by Sara Fuentes
SPANBAUER Tom, The Man Who Fell in Love with the Moon, (pp. 12, english version) (pp. 25, spanish version)
By
Alice
|
Published:
March 26, 2010
"I called the game killdeer because of the bird. Heard my mother tell a customer once that she liked the killdeer bird because killdeer placed a trick on you. Trick was, killdeer acted like her wing was broke so that fox or coyote would follow her away from her nest.
One day I found a killdeer bird and followed her. That´s just what she did-played as if her wing was broke so I´d follow her away from her nest.
Thought that bird was pretty smart to do that.
I was a lot like that bird.
The killdeer game was I was looking for something, but I didn´t know what I was looking for. Was killdeer I was looking for.
Trick was, though, if you acted like you were looking for killdeer, you´d never find killdeer.
You had to be killdeer.
Something else with the killdeer game-if you didn´t want somebody to see you, they couldn´t see you.
Couldn´t match the bird, couldn´t find the nest, couldn´t  see me"
SPANBAUER Tom, The Man Who Fell in Love with the Moon, p. 12, (english version) and p. 25 (spanish version). (by Sara Fuentes)
By
Alissa
|
Published:
March 12, 2010
Let Me Tell You About My Curatorial Project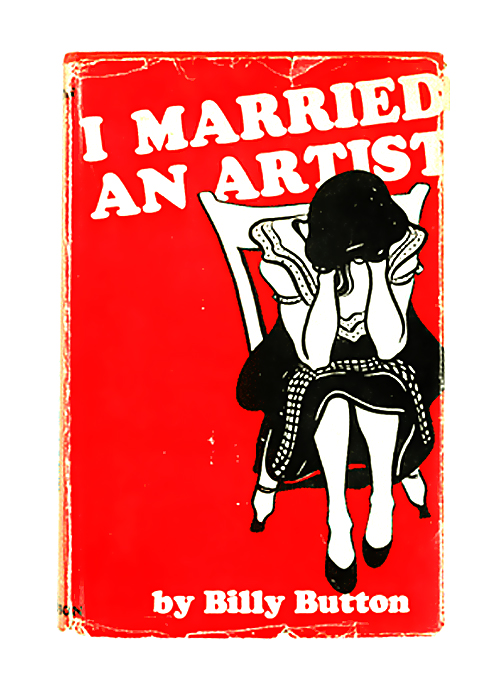 Don't blame the artists.
Sure, as curators, we're married to artists. If we're not, we are certainly dating them, seeing them in cameo appearances in dreams or stalking them on Facebook in our spare time. (All metaphorically speaking here, of course.) The ink on that contract has been dry for a long, long time. The fact is that without artists, curators are just over-educated librarians moving books from shelf to shelf in a faded, boggy old library that no one visits anymore. So. Have a good cry, send another email, try once more to get that response to the dates proposed.
There is something to be said for admitting one's lot in life. And sharing it others with delicious pleasure. I've said it before, and I'll say it again. Curators are not victims. Let's not play this card. We can choose to start, redirect, stop and get off (hope not!). Where does that power-to-choose go at the culmination of a 'curatorial project' – the awkward term that is an awkward fit for a time when the practice of making exhibitions has shifted towards discourse. Does that energy get filtered back into the grocery list?
Hopefully before this project comes to a close the next one has been passed the baton so there is no lag-time. Let's have no healing period, no hangover, no post-partum depression. That way the curatorial party never stops – and by party I mean sitting at a computer alone with a number of programs running, ideally one for writing, one for making spreadsheets, one for music and three for communicating. (A word of caution: don't confuse multitasking with the expanded field of curating.)
It boils down to what Groys has called art-based time: the reason we're here. We love art (and artists) and we want to spend time together.