"On devrait former des commissaires à l'exposition d'idées"
Stephen Wright est critique et théoricien de l'art contemporain. Je suis allée l'interroger sur sa pratique en tant que commissaire d'exposition de pratiques artistiques à faible coefficient de visibilité artistique ou « para-artistiques », pratiques qui soulèvent la question d'un « art sans œuvre, sans auteur et sans spectateur ».
Nous travaillons au sein de l'école sur les tactiques de la fiction, afin de comprendre comment les artistes s'en emparent et comment nous pouvons, en tant que curateurs, utiliser ces tactiques dans notre travail. Or je m'intéresse particulièrement aux artistes qui vont agir dans un « déjà donné »  pour s'y insérer, introduire des fictions, détourner le réel.

Ce serait une erreur d'imaginer que la fiction s'oppose au réel comme le faux au vrai. Dans le Partage du Sensible Jacques Rancière propose que « le réel doit être fictionnée pour être pensé. » Il crée un verbe : « fictionner ». Par ce mot, il n'entend pas « falsifier » mais plutôt « mettre en récit » ou simplement «représenter », en tout cas proposer une lecture de la réalité. Cela suppose que la réalité, ce n'est pas le réel. Le réel, ce serait l'a priori pour parler comme Kant, dont on doit supposer l'existence, pour pouvoir faire une représentation, pour pouvoir agir dans le monde. En affirmant que « le réel doit être fictionné pour être pensé », Rancière définit en quelque sorte le rôle et le fonctionnement de l'art dans la redistribution du sensible, car la mise en fiction, en récit et en œuvre est le propre de l'art dans toutes ses formes.


J.D. Salinger. In search of the unpublished books
J. D. Salinger died today in Cornish, New Hampshire, the town where he spent much of his private life. He was 91.
The author of Catcher in the Rye — published in 1951 — was a myth for several generations of young people, will always remain a symbol of rebellion, restlessness, for those about to cross the "shadow line" between childhood and adulthood. A myth fuelled thanks to its mysterious existence; all alone of secrecy, almost a legend, that his incredible confidentiality created around him. Very few indeed, over the decades, are the information on his writing. Over the last fifty years, in fact, the writer has granted very few interviews. But there is a sort of legend, put about by people close to his agent, the existence of a safe full of unpublished manuscripts which were to be published after his death. Pending solve this mystery, Salinger published works are all full of existential unease. An uneasiness that probably explains the excesses of Salinger confidentiality, that in the era of mass media assumes a value almost heroic. And indeed he, to defend it, do not hesitate to go to court, in the eighties, to prevent the publication of his biography. At judge he said to deal with fiction, and little else. Before returning to his voluntary exile.
VV
.
.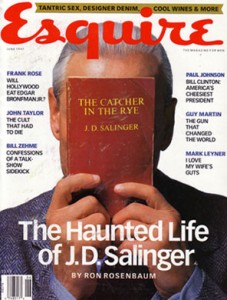 .
Suspended Reality
EN
In the late nineteenth century, flourished a literary style that gives pride to anxiety, madness and the unreal, fin de siècle atmosphere. This is the fantasy genre which two are masters of Guy de Maupassant in France and Hoffman in Germany. They blur at leisure the boundaries between the reality of what is not, the fiction of madness. In addition, Maupassant wrote his masterpiece, The Horla when he was already beginning to sink into madness and Les Contes d'Hoffman served as a support for the nascent psychoanalysis. At the mere mention of apparitions, ghosts and other objects invisible and impalpable, they rise to the doubt and anxiety in the narrator's mind and, indeed, the reader.
Sigmund Freud is therefore based on The Sandman Hoffman to theorize the concept of the unheimlich, translated by uncanny. He is describing a state of mind where we do not know if what we see, what you saw was real or not it is a moment of great doubt and anxiety linked to the complete loss of landmarks, which can lead to its climax in a state of psychological crisis. Article Freud published on this subject (1919) will have a lasting influence artistic creation of the century.
The moment of doubt, or that reality and fiction blend, can be approached a second state of mind: that of meditation. In meditative state, the mind has no awareness of time, space and even individuality is no longer a part of a greater whole. Drugs provide sensations which resemble it, such as mescaline and LSD to an effect of synesthesia alter perceptions and factual benchmarks "normality". Reality is more identical to itself.
What is at stake in this moment real or is suspended in the tangle of perceptions is the ability to be in direct contact with reality and the ability to understand. Fiction as it is put into play in fantasy is a way to come and examine our habits, by destabilizing the fiction calls into question our understanding of the world.
Erik Satie wrote a composition, harassment, the form must be relatively short repeated 840 times on a slow pace, which takes between sixteen and twenty four hours. It did not occur directly to its realization, and yet, from John Cage a number of pianists it is attacked. This composition, by its repetitive nature, induces a state similar to that of meditation: a loss of markers of time, the cops and even space. It is an ecstatic state achieved through listening. The musician (or musicians) who plays several states may feel the frustration, extreme concentration, an ecstatic state … Satie sought to transcribe music throbbing pain he felt after a breakup, it seeks to provoke a psychological effect on the audience and the musician. Not without humor, he advised the latter to prepare a "serious immobility."
Our questioning the tactics of fiction as fact is indicative of a first level of implementation in choosing the composition of Vexations. A second level is made by changing the traditional updates of this composition. The tactic is that the instrument chosen is not a piano, as is usually done. This disrupts the selection and perceptions gained just cause this state of the uncanny that we seek to provoke. It is a timely intervention on a subject that usually changes and allows the suspension of reality. The tactic is implemented through a procedure, a procedure which has also connect art and music.
It switches the interpretation (in the musical sense and science) in the fictional practice. The good interpreter directs the representations which our worldview. The interpretation is based on the distance between the message and clear its latent meaning. The correct interpretation of the musician or critic is to achieve a kind of transparency between the work and the proposed reading is theirs. A fictional interpretation just messing doxa on the credibility of the Trustee, without giving a wrong interpretation of the work: that between is the object on which procedure applies.
Alice Marquaille
.

.
You're feet are one inch off the ground
Stephen WHITTINGTON
20 mars 2010, during the performance of Vexations, he did start
Discussion in a sound landscape
He wrote an article sixteen years ago, but since then he evolved and modified his understanding of Les Vexations.
This piece is religious in a way, it looks like a labyrinth. The labyrinth, as in cathédrale de Chartres, was a physical path designed on the floor which symbolized the spiritual path leading to God: as you follow one the other is happening. Les Vexations permits one to have a direction to find, and following your own path. It is like an inner struggle, but struggles are moments of the spiritual quest. The repetitions help to just keep doing it, they are the pavements of the spiritual path and helps to try to find the spiritual achievement. Repetitions are always in the nature of spiritual achievement, like mantra.
It's in the initial idea of les Vexations to keep in repeating and so entertaining. (looking and hearing the young students trying to play this piece)
The students are practicing but they keep on making mistakes. They are young people on this spiritual path, they are trying and trying, and I accept that. It's the beginning of something, and they are struggling, because it is more much difficult than they could realize.
I could feel this morning that some of the students were playing quite well and when they realized that they were on stage, they just crashed down.
Yes the mentality of the performer is important, it is (hesitation) egocentric, which means very much involved in their soul. The students have the fear of somebody judging them, and the fear of making mistakes. But as soon as those things take hold in you, you will certainly make mistakes. As soon as you feel watched, and somebody is about to judge you…
This kind of performance is not about you: you are a person and something comes through you, it's not about you it's about something else; it's about the spiritual state. You are just the thing for passing in this time. The question would be play, try to…
.
Une Communication d'une vérité à l'autre
Ornella VOLTA
Discussion avec Alice Marquaille à propos des Vexations
12 mars 2010
Warhol a fait Sleep après avoir entendu la première performance des Vexations.
Pour Erik Satie c'était plutôt une sorte de pénitence. Cage ne voulait pas vraiment vivre cela comme une épreuve, dans la pensée zen il ne faut pas penser l'effort comme une fatigue. Pour le public ce ne devait pas non plus être une épreuve, alors il a pensé à un système pour que les gens ne payent pas à l'entrée mais à la sortie. Ils payaient de moins en moins cher ,plus ils restaient de temps. Celui qui est resté tout le long de la représentation a même reçu quelques centimes !
Avez-vous déjà assisté à toute une représentation ?
Oui, plusieurs fois, il y a quelques années de cela surtout. C'est vrai que l'on a un peu l'impression de planer, on a des perceptions différentes, des sensations différentes. Depuis que Cage les a représentées c'est un peu différent, c'est comme si l'on planait dans un monde différent.
Vous dites que Cage les a transformées, c'est le fait de performer les Vexations qui les transforme ?
Oui, dans la mesure où c'est quelque chose faite pour soi, que le pianiste se joue à lui-même. Cage a partagée la performance entre douze pianistes, et ensuite il l'a partagée avec un public, donc c'est transformé par rapport au sens original. Sinon pour le reste, il a respecté toutes les règles.
Et par rapport à la phrase écrite par Satie, ses indications, 840 semble absurde presque, pourquoi pas 10 ou à l'infini ?
On ne comprenait pas pourquoi 840, j'avais déjà trouvé que c'est un multiple de 3, 4, 5, 7 et 12, ce qui correspond à différentes choses déjà connues de l'histoire. Mais un mathématicien anglais, en assistant à la représentation de Mark Lockett a trouvé une interprétation de ce chiffre. La Fondation est en train d'étudier cela et va produire une publication scientifique à ce sujet.
.
.
Mark LOCKETT, Vexations
Interview par Alice Marquaille à propos des Vexations d'Erik Satie
Dans quel cadre avez-vous donné la représentation des Vexations d'Erik Satie ? Combien de temps a-t-elle durée ?
La dernière représentation des Vexations a eu lieue dans une galerie d'art à Montolieu, elles ont durées vingt-deux heures. Mais j'avais déjà joué cette œuvre quand j'étais étudiant. J'ai souhaité revivre cette expérience.
Quelle est donc cette expérience que vous souhaitiez revivre ?
Quand on joue les Vexations on ne s'ennuie jamais. Même si c'est dur physiquement. Cette fois j'ai commencé vers dix huit heures, entre minuit et six heures, c'est dur, mais la musique change. Ça fait halluciner.
La fatigue a-t-elle modifié votre jeu ?
J'ai enregistré la performance dans son entier et le rythme est toujours stable.